I'm very excited to announce that my debut EP, Start The Hurricane, will be available to stream/download from Friday 3rd September. It feels weird saying 'my debut EP' as I've been making music and writing songs for a long time, but this will be the first cohesive batch of songs I've put out under my own name. 
I've been delighted with the response to Vultures - the lead single and opening track to the EP. I want to say thank you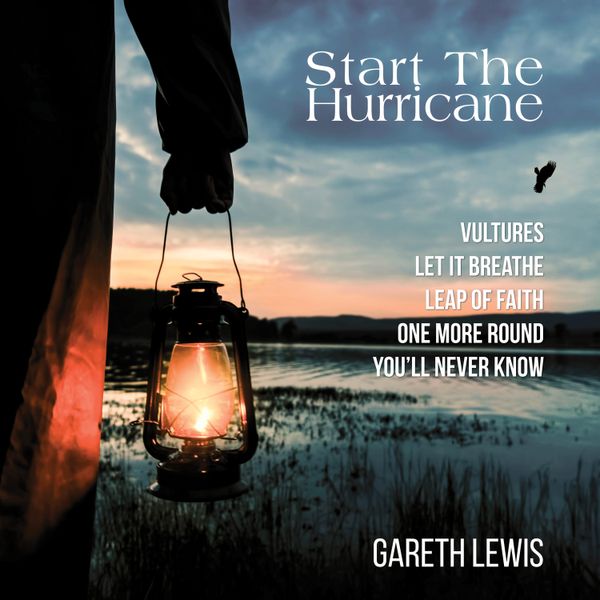 to everyone who's streamed or downloaded it, and watched the video. At the time of writing this, Vultures is into its third week on the BBC Radio Wales A-List and going down well with all the DJs! It's also been featured on Planet Rock Radio's New Rock Show four Mondays running! I'm a big fan of Planet Rock and Wyatt Wendels who presents the New Rock Show, so it's all been very cool.
There's always something special about having your song played on the radio, and this week I also found out that I had been made Artist of the Week on Bro Radio, a local station which covers the Vale of Glamorgan; I've also been added to the Welsh Connections A-List for next week, so thanks to Mike Kennedy for that!
As I said, Vultures is the lead track from Start The Hurricane. Once I'd recorded all the songs, Vultures just felt like a perfect opener musically, and lyrically it sets up the whole EP. There is a strong theme of hope running throughout the Start The Hurricane EP. Each song is based on overcoming fear and adversity, and the EP as a whole is about becoming/embracing the person you were always meant to be.  
The name Start The Hurricane is taken from the chorus of You'll Never Know, the closing track on the EP… 'You'll never know which raindrop will start the hurricane.' I think that line sums up the whole sentiment of the EP.
I actually recorded six songs for the EP, but only five made the final cut. That was more to do with how the songs fitted together rather than the quality of the song that didn't make it. The song that didn't make the EP is actually one of my favourite songs that I've written, and will probably be featured on a second EP next year.
I hope you all enjoy Start The Hurricane, it definitely feels like my best work yet as a songwriter... and the songs rock! You can help me out by pre-saving the EP on Spotify here: https://show.co/BDFmBUO
Thanks,
Gareth