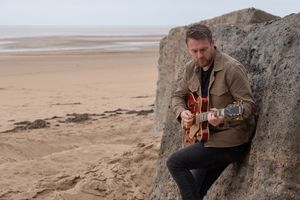 Gareth Lewis is a UK singer, songwriter and musician from Swansea, Wales with  a long career in the music industry. 
Gareth's music and songwriting is influenced by his love of blues, country, rock, acoustic and gospel music. His 2021 solo debut EP Start The Hurricane was a mix of all his influences as well as having a southern rock vibe.
Gareth was involved in music from a young age, he was taught to play guitar by his dad, which instilled a passionate interest and he formed his first band Squeezebox during his last year of  school with his two best friends. He started writing songs and a series of bands followed, but it was when Gareth first bought his first Dobro resonator guitar that he developed his own voice as a songwriter. This was a catalyst for forming Dukes Of Hafod with songwriter Richard Fender. Together they wrote roots, earthy Americana and alternative country songs and released an album 'All Roads Lead Here'.  One of their earliest singles 'Bloodwater' made them artist of the week on BBC Wales. 
Gareth has a successful track record as a songwriter. His song 'Don't Let Your Love Lay Down' made it to the final and the top 2% in the Americana category at the International Songwriting Competition (ISC) in Nashville.  The competition has 18,000 entries each year and is judged by artists including Tom Waits, Coldplay, Hozier and George Thorogood.  In recent years, Gareth formed a songwriting partnership called Fever Sparks with Swansea based singer and songwriter Andy Morse.  Their song 'Loaded' also made it to the final of the 2016 ISC in the Americana category and another song 'This Is Love' made it to the final of the US based Unsigned Only music competition. 
Some of Gareth's proudest achievements include writing and recording 'The Time We Took On the World' for the Welsh Homeless football team, who competed in the Homeless World Cup in Cuba. In 2020, Gareth had the opportunity to record a song he'd co-written 'Don't Feel Like Love' at broadcasting legend Bob Harris's house for Steve Balsamo's latest EP. In 2021, a song he co-wrote called 'Something New' with songwriting team Delta Kills was used in an online advert by Porsche featuring Bill and Ted stars Keanu Reeves and Alex Winter. 
As a musician, Gareth has supported British rock band The Struts and has played in professional cover bands across the UK, Italy, Morocco and Tunisia. Alongside Steve Balsamo and Andy Collins, Gareth performed in The Netherlands and supported Americana artist Vanessa Peters.   
Gareth has become a regular A-List artist on BBC Wales Radio Wales and has had singles played on Planet Rock Radio.