It's been a while since my last blog post, but it feels great and cathartic to be writing this now with a new single about to drop and lots of other songs recorded and ready for release as part of a new EP!
While the devil plays the tune is my first single release of 2022 and will be available on all streaming sites from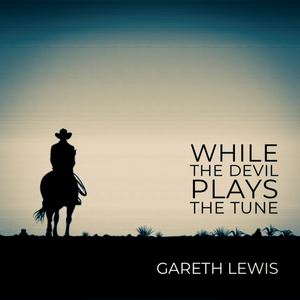 Saturday 14th May. It's a song I'm very proud of as it showcases a different side to my songwriting. Most of my songs tend to be about the human condition and the expression of emotions, but this is a story-based song with a strong narrative (in my head I see it as a movie). It was written last year whilst I was writing songs for my first EP Start The Hurricane. I immediately loved it but it didn't fit with the feel of the songs I had for the EP, so I decided to hold it back. At the time I was listening to the latest Bruce Springsteen album and experimenting with more story-based songs... I'm a big fan of underdog movies and modern westerns and this song definitely indulges those influences. 
The song tells the tale of a young man who is hounded by the local Sheriff of the town and framed for crimes he did not commit. The song is told from the perspective of the man's best friend who has to take the stand in court to try and clear his friend's name. As the story unfolds, we discover that the man who is wrongly accused has set up the Sheriff to fall, which transpires in the courtroom where justice is eventually served.
As I was writing the song I had a clear vision for the story and how I wanted the song to sound. I wanted it to be country in it's feel and could hear in my head the sound of a pedal steel guitar. When it came to recording the song, I reached out to US based pedal steel player and session musician Hamilton Belk. I was aware of Hamilton's amazing pedal steel playing from sessions he had done for Steve Balsamo. Hamilton took on the session for me and did an incredible job, which raised the song to another level in my opinion. So I'm very grateful to Hamilton for his playing and to Steve for making me aware of him!
As usual, I recorded the song at James Weaver's studio in Mumbles. I've been working with James for coming up to four years now. In that time we've built a great working relationship and work very effectively together. This song was recorded in one day (apart from Hamilton's session) with James handling bass and programming the drums, whilst I played all the guitar parts and took care of the vocals and harmony vocals.
I'm very proud of the final result, it's one of my favourite songs that I've written, and I can't wait to share the very cool video for the song that has been produced by Gareth Davies of www.seebehindthemoon.com
I'll talk more about my new EP in time, but all I'll say at the moment is it's more diverse than the last EP with a great mix of feels, some heavier tracks, some softer tracks and a real anthem which is probably going to be the next single!
Before I sign off, I'd also like to mention that I'll be playing a live acoustic set at SWNDFEST, Swansea on Sunday 19th June alongside a line-up of great artists. You can get tickets and further details here.
While the devil plays the tune is available from Saturday 14th May. Pre-Save it on Spotify here.
Gareth